Details

Vitaly Novikov
MOSCOW, Russia - For the third time already Russia held an MCR duplicate championship. This year it combined both team and individual scoring. Forthcoming this year is the World Mahjong Sports Games in China, a duplicate MCR teams tournament. Participation rules will be announced soon by the WMSG-2018 organizing committee, and Russia can proudly say: "We are ready!"
Twenty eight players from eight cities of Russia gathered last weekend to find out who is the cream of the crop of duplicate MCR mahjong in Russia. In the best team "Hu is hu" made up of Anna Dashkova, Anastasiya Chernykh, Sergey Vasiliev, and Vladimir Terekhin, one can count as many as three MCR Russian champions. The best individual and new Russian MCR duplicate champion is Alexey Shpilman. Runner-up is Pavel Anokhin, 3rd place is taken by Vladimir Terekhin.
Read more: Russia undertakes intensive 'duplicate' training for WMSG-2018
Details

Nicole Haasbroek
GARDENA, California/USA - Upcoming weekend riichi mahjong club 'Los Angeles Pride of Mahjong' (LAPOM') will be hosting a two-day tournament, which will be streamed LIVE on YouTube. For the first time in the history of the North American Riichi Mahjong Association ('NARMA') players will participate in a team competition instead of an individual event.
Read more: First American Team Competition Streamed Live Upcoming Weekend
Details

Nicole Haasbroek
COPENHAGEN, Denmark - A few hours ago 'Mahjong Denmark' announced on social media Daina Chiba, author of "Riichi Book I: A Mahjong Strategy Primer for European Players", will be conducting a strategy seminar on April 14-15 in Copenhagen. The event is open to all interested parties, however at the moment just eight seats are reserved for non-Danish attendees.
Read more: Mahjong Denmark Announces Two-Day Seminar Daina Chiba
Details

Nicole Haasbroek
HEEMSTEDE, The Netherlands - By the skin of her teeth last year's 'most funny Valentine' Dutch Martha Pasterkamp wins the tenth edition of the "Valentine Tournament" (MERS) with 14 table points and 516 mini-points, followed by fellow countryman Barry de Vos scoring 14 table points and 499 mini-points, while Belgian Marieke Verheyden claims third position with 13 table points and 447 mini-points.
Read more: Jubilee Valentine Tournament Goes To Martha Pasterkamp
Details

Nicole Haasbroek
SAINT PAUL, Réunion (FRA) - After four sessions André Balagourou, French Champion MCR in 2014 and 2015, emerges as victor at the "Dragon Rouge Tournament" (MERS) scoring 14 table points and 440 mini-points. Runner-up with 13 table points and 634 mini-points is Marcel Tsong Chin Chuen, and with an equal amount of table points but less mini-points (332) Annick Pause is awarded third place. 
Details

Brian Ashcraft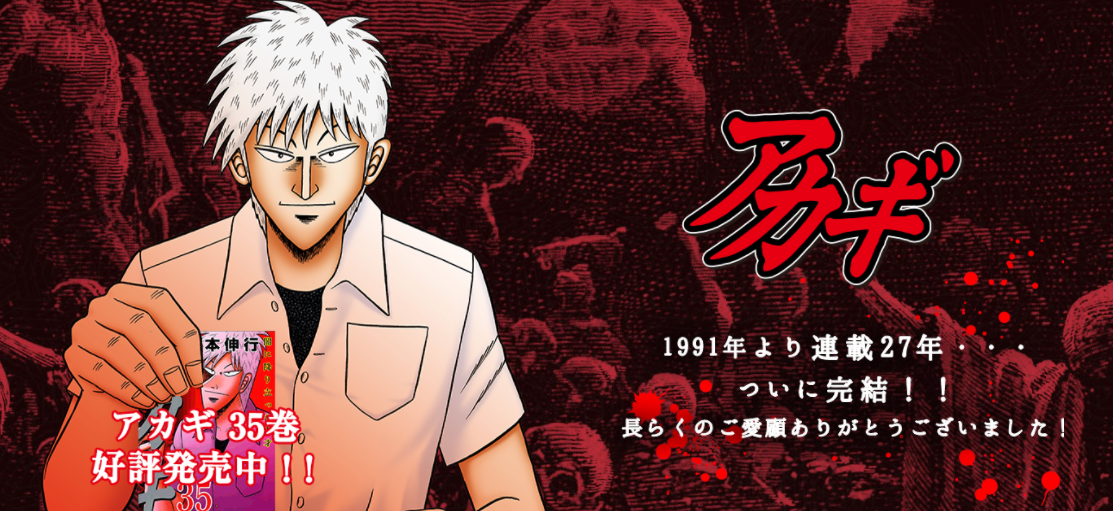 According to the manga's official site, Akagi's 27-year run is "finally concluding". Its conclusion was first announced last year.
Details

Scott D. Miller
Italy - Saturday 13th and Sunday 14th January 2018 the Master was played among the best 16 players of 2017 using the duplicate format, which compares the results obtained by the players using the same pawns. At the end of the five game rounds, in which all the players faced each other, the victory went to Marco Milandri with 14 points, in second place Elena Savini also with 14 points but less mini-points, at the third place Francesco Martini with 12 points, and in fourth Marco Bazzocchi with 12 points.
Details

Vitaly Novikov
TYUMEN, Russia - The third in "Siberia" zone of Russia RERS tournament took place in Tyumen gathering twenty players from six cities of Russia. This tournament concluded official EMA tournaments in 2017 both in MCR and riichi rules. The winner is Eduard "Dragon" Polozov from Tyumen (winner's nickname most probably comes from his last name which relates to the type of serpent), runner-up is Pavel Sorokin from Saint Petersburg, 3rd place goes to Vladislav Plyasunov from Moscow. All scoring was done via "Pantheon" system -- no paper or tenbo sticks, login via mobiles or smartphones.
Read more: Eduard "Dragon" Polozov wins the last RERS tournament in 2017